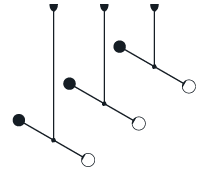 Like the balancing tricks perfected by acrobats, jugglers and high-wire walkers, this chandelier lends itself to a series of distinct performance scenarios. As a single pendant, it evokes a tightrope walker and is at its most distinctive. Used in groupings of different sizes, it creates surprise and sparks the imagination. 
Materials
Brass and mouth-blown glass
Finishes
Lacquered polished brass and polished brass (acquires its own patina naturally)

Colors
available

For the central tube:
brass
black
red wine
pine green
papyrus
mustard yellow

Dimensions

H. 1200, 1700, 2200 mm / W. 1110 mm / Ø 180 mm (glass), 160 mm (brass) / 6, 6.5, 7 kg

Light source

1 × Led G9 / 5W. 220V.
Download product informations
Download installation instructions