Fixed to a shaft that rises from the wall fixing to form an elegant curve, this wall lamp evokes 1950s Italian design. Two hemispheres – one in brass and the other in blown glass – come together to create a globe in which both halves coexist in perfect harmony.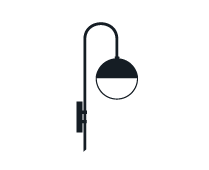 Materials
Brass and mouth-blown glass
Finishes
Lacquered polished brass and polished brass (acquires its own patina naturally)

Colors
available

For the central tube:
black
red wine
pine green
yellow honey
papyrus

Dimensions

H. 770 mm / W. 365 mm / Ø 250 mm / 5 kg

Light source

1 × Led G9 / 7W.