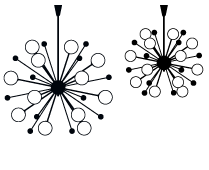 This theatrical lighting piece of imposing volume offers a floating deconstruction  of the 20th century Sputnik space probe through the association of brass with hand blown glass in an explosion of excitement. The contrast between the air-light hand blown spheres and the density of the brass spheres challenges our perception of weight and weightlessness.
Materials
Brass and mouth-blown glass
Finishes
Lacquered polished brass and polished brass (acquires its own patina naturally)
Dimensions

H. 61˝ / W. 49˝ / Ø 6˝ (glass), 2.3˝ (brass) / 27 kg
H. 1546 mm / W. 1241 mm / Ø 160 mm (glass), 60 mm (brass) / 27 kg
36 arms, 18 with lighting

Light source

18 × Led G9 / 5W. 220V.
Download product informations
Download installation instructions