Mounted on a circular base of Carrara marble, the floor lamp 06 have such a purity of form that it strongly recall the modernist aesthetic of the 1920s. At the end of the shaft, an elegant opalescent glass globe rests on a brass cupola. Its restrained simplicity is a rare gift in the world of lighting.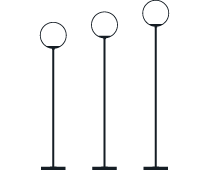 Materials
Brass and mouth-blown glass
Finishes
Lacquered polished brass and polished brass (acquires its own patina naturally)

Color
available

For the central tube:
black

Dimensions

H. 1400, 1500, 1600 mm / L. 250 mm / Ø 250 mm / 5, 5.1, 5.2 kg

Light source

1 × Led G9 / 7W.