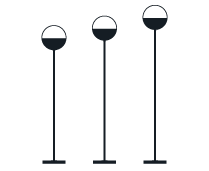 Mounted on a circular base of Carrara marble, the floor lamp 01 is all about symmetry, with it globe made up of two equal hemispheres; one in brass and the other in blown glass. It is the resulting harmonious balance that gives this lamps it unique presence.
Materials
Version 1 : Smooth brass tube, marble base, mouth-blown glass
Version 2 : Fluted brass tube, brass base, mouth-blown glass
Finishes
Lacquered polished brass and polished brass (acquires its own patina naturally)

Color
available

For the central tube
Version 1
brass
black
red wine
pine green
papyrus
mustard yellow
Version 2
brass

Dimensions

H. 1400, 1500, 1600 mm / L. 250 mm / Ø 250 mm / 5, 5.1, 5.2 kg (Version 01) 6, 6.1, 6.2 kg (Version 02)

Light source

1 × Led G9 / 5W. 220V.
Download product informations (Version 1)
Download product informations (Version 2)
Download installation instructions