About
Contact Magic Circus
Marie-Lise Féry
T. +33 (0)6 09 39 76 76
m.fery@magic-circus.fr
In the wake of its acclaimed launch at the January 2016 Maison&Objet Paris design fair, Magic Circus Editions continues exploring and adds new lightings to the 01 collection, providing more applications. This original range draws its inspiration from the personal preferences and tastes of the company founder Marie-Lise Féry, art school graduate turned iconoclastic antique dealer. Her experience as a dealer hasgiven her the opportunity to develop her own eye for style, expand her client base, create daring contrasts, and test her room presentation and decoration skills in a series of projects.
Her personal inclination towards the aesthetic of the 1920s and 30s, her admiration for the world of cabaret and the stage, her feel for fantasy and her love of humour come together to create a unique and extremely modern spirit that perpetuates the French lifestyle tradition. The opalescent glass and brass 01 collection is growing. The central shaft is offered in six basic colours, and new applications are nowavailable. Table lamps, standard lamps, wall lamps and ceiling lamps now provide a fitting complement to the initial designs. Brass remains the material of choice, and is offered in a lacquered polished version, with the option of a natural version that evolves over time and assumes its ultimate patina after a few months. A happy alchemy…
Like a jewel, each lighting piece is handmade with hand-blown glass, and the bespoke metal finishes are crafted in a workshop using traditional techniques and expertise. Whether turned on or switched off, each has an undeniable presence defined by its restrained lines, familiar decorative references and an XXL option for a more spectacular and undeniably modern effect.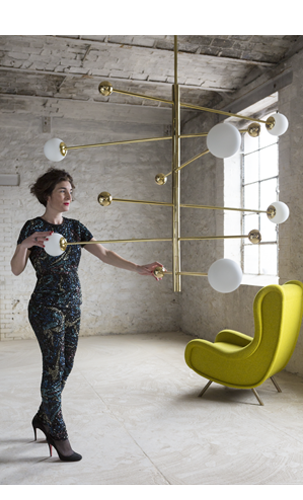 M A R I E – L I S E   F É R Y

The scintillating ringleader of a unique lighting collection.
Her creation of Magic Circus Éditions is a natural extension of the passions, travels and encounters of Marie-Lise Féry.
Paris-born Marie-Lise Féry left for New York soon after completing her studies as an art dealer. There she learned her trade, fell under the spell of the Big Apple, and drank in strikingly different – but elegant – decorative styles.
On her return to France, she opened Un château en Espagne (A castle in Spain), an antiques gallery in Lyon that once seen is never forgotten.
There, she showcases objects as others use words to tell stories: a gift she loves to express through her interiors projects. "When something has soul, it will always find its place" is a phrase often used by her stylist mother, from whom she inherits her love of beautiful things and the art of knowing how to associate them.
But she wanted to go further, and in 2015 took the bold step of creating Magic Circus Éditions.
So why lighting? Well, because lighting creates the atmospheric magic integral to any successful interior.
That in itself is a persuasive argument for someone as in love with the spectacular as Marie-Lise Féry, who is fascinated by circus, cabaret and music hall and the kind of world created by Wes Anderson for The Grand Budapest Hotel: style, elegance, the jumble of different periods, fantasy and the unexpected.
Along the way, a happy encounter with a traditional craft workshop would give substance to her designs and the opportunity to validate the forms and proportions of her preliminary sketches. The subsequent collaboration would focus in on the minute details and perfecting each finish to the point where it receives the impressed mark that authenticates each piece.
Marie-Lise Féry loves the idea that beautiful pieces can be enjoyed day and night – neither forgotten nor imposing – and enjoys the idea that her designs effectively reinvent themselves when positioned where they may be least expected. The perfect balance between fantasy and sophistication.